Hello there,
I hope you're having a lovely June. It's been a beautiful sunny day here in Sussex and I have been lucky to be able to spend the day glazing in my garden.
I have been busy making more ceramic round folk like fish head Frank here. There are a few more folk in the kiln as I type so be sure to follow me on Instagram or Facebook to meet them when they're finished.
I have finally got round to updating my shop with new illustrated bob brooches, ceramic rabbits, sheep and one or two round folk too.
Next Saturday I am excited to be taking part in the Vintage and Craft Market in Tunbridge Wells. If you live nearby come along and say Hello.
My record of the month is Eus Keus by Gwenno. Gwenno is singing in Cornish and is apparenly asking 'Is there cheese' in the chorus. I've eaten quite a bit of Cheddar these last couple of weeks so this song has been on my mind quite a bit.
Treats, I don't like ice cream, but it's been warm, so, well, I had to eat ice creams.
The four legged friend keeping me company at the moment is Fox Terrier Elton. I always want to break out into Tiny Dancer, which reminds me of the film Almost Famous.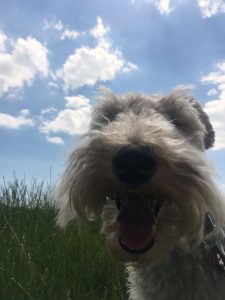 This months crush is Modflowers who makes characterful art dolls and creatures using vintage fabric, take a look.
If you have got any recommendations of makers that I should check out, please let me know and I can give them a mention in my next Sunday Studio post.
Thanks for reading.
Over and Out x