May in Brighton is all about The Brighton Festival, The Great Escape and Brighton Artists Open Houses. This week I set up at  The Trojan House and spent some time helping out at The Cicada House where there are around 20 Artists showing. The Open Houses are open every weekend in May so if you get a chance to visit any I thoroughly recommend it.
After going on the brilliant course last week I decided to treat myself to some new underglazes and also a different type of clay. I will post the results if my pieces make it through the firing.
I do like a bit of The Stylistics and for some reason I haven't been able to get Betcha By Golly Wow  out of my head for the last couple of days, so that's my record of the week.
Treat of the week was made just so I could complete ths part of my post (honest)…it was a pear, chocolate and almond loaf mmm
Murphy is my lovely four legged friend of the week, he likes to spend his time chilling and has been a bad influence on me this weekend.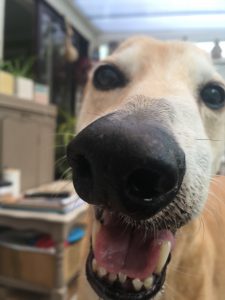 My crush of the week is Suzanne Breakwell she makes the most stunning paper sculptures including robbins, owls and hares, check her out.
Until next Sunday