Hello, good evening,
It's not Sunday, it's Tuesday, I'm a day or two behind and also a month or two late, oops, I am telling myself 'it's better late than never'!
I am pleased to say that since my last post I have fired the kiln and have some wares to show you. You've already met Mildred, I hope that you like her. I have also made some more rabbit families and now cat families too. Ta Da!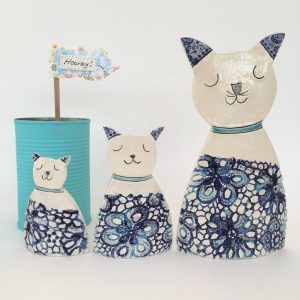 If you want to see more of my recent makes the best place to keep updated is on my Instagram feed.
In next months post I will tell you about a couple of fairs I have booked and will also mention a couple of the  Brighton and Hove Open Houses
My record of the month is an oldie but a blimin goodie. Its The Manics Design For Life, I haven't been able to get this song out of my head since hearing about the release of their latest album. I've even taken to playing CD's in the car again.
Now, please don't be too disappointed, but I've no cake to show you. I know, I know. I promise to return in May, I won't let you down. I have found the beautiful sunshine we have been having here in Sussex a real treat, that counts, right?
Aprils four legged friend is Bertie, he is a funny boy, full of energy and always up for a treat.
This months crush is someone I have only very recently discovered, Emily Coxhead, creator of The Happy Newspaper "A newspaper to celebrate all that's good in the world". Take a look, it's a cheerful place.
Thanks for reading me. Any spelling mistakes are deliberate.
Back in May, Hooray x