Hello, hello,
Now that Halloween and Guy Fawkes night are over it feels kind of ok to start mentioning Christmas, right?
I have my first fair of the season next week, it's the fabulous Fairy Tale Fair in Brighton, I'm really looking forward to it. It's a wonderful fair with a great atmosphere and a good place to do a spot of Christmas shopping.
I have spent the past few weeks glazing and firing everything I have made since about August. I still have another kiln load to glaze and fire and then I will start naming the sheep, making packs of decorations, putting the birds together and preparing my packaging and boxes.
All of my events are now listed here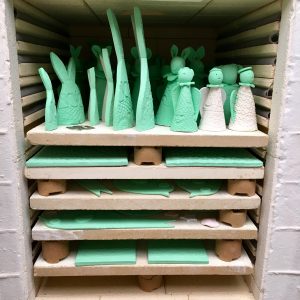 My record of the month is Blind by Hercules and Love Affair featuring Antony Hegarty
Although I have been very busy glazing and firing everything I have made, I still made time for cake, I have my priorities in good order. As ususal I have had plenty of sweet treats including this lovely polenta cake, unfortunately I can't remember where I had it…..oops.
This is Ador, my lovely four legged friend and Sunday Studio guest this week.
My crush for November is Salts & Co. I love to have a bath on these cold dark nights, and have treated myself to some of these gorgeous bath salts, 'Relax' is my favourite.
I will be back in December, if you live close by and are visiting any of the Christmas fairs please come and say hello.
Back in a few weeks.
Bye for now x